The Covid-19 infection rate began to slow down, and the reported new cases began leveling off in the early weeks of 2022 for Vietnam. As a result, localities were gradually adjusting to what has come to be referred to as the "New Normal".

However, the world we thought we knew and the long-established global order has changed form. And not just due to Covid-19, the shadow of war has been cast across the globe. The unfortunate escalation of the conflict between Russia and Ukraine has further complicated global supply chain challenges and increased inflationary pressures.
2022 – The light that always shone through
Carrying the distinctive "gene" of information technologists, we pushed ourselves to new boundaries.
FPT Corporation had set double-digit growth targets amid the uncertainty and doubts of 2022: 19% in revenue and 20.2% in profit. The further into the unknown we venture, the more valuable the guiding light will be. There is the light of technology and knowledge. Technological advancement increases flexibility and responsiveness in a turbulent world.

Tens of thousand employees of FPT put their efforts into each line of code, cable line, and classroom to make the most of every working hour, seeking to bring prosperity to their business and country, and joy to the people.

Millions of hours of hard work yielded the completion of our ambitious goals. Specifically, FPT's total revenue reached 44,010 billion VND, an increase of 23.4%, and pre-tax profit reached 7,662 billion VND, up 20.9%.
Sales in international markets
1 billion USD
Revenue of the US market
50%
Revenue of APAC market
35.7%
One of the most stunning achievements was the result of the global expansion strategy. In 2022, foreign IT services gained an average revenue growth rate of more than 30.1%. This represented an over 50% increase in the US market and a 35.7% increase in Asia – Pacific. Japan market witnessed an impressive recovery in the second half of the year, contributing to the growth of 16%, or 30.3% in Yen. After 23 years of "going global", FPT finally achieved a milestone of approximately 1 billion USD in sales in international markets.

It consecutively launched a series of new offices in key markets such as the US, Japan, Denmark, and Thailand, operating in 29 different countries in total. This network of offices and branches around the globe allowed the Corporation to deploy 247 IT services to international clients no matter where their location. Due to its improvements in capacity and scale, FPT recorded numerously big deals, including 31 projects with a value of over 5 million USD/each and 204 projects with a minimum value of 1 million USD.

In addition, digital transformation services took a big step forward. Digital transformation revenue was 7,349 billion VND, accounting for 40% of the international markets' gains. The domestic digital transformation sector also recorded many achievements in the three pillars of the digital economy, digital society, and digital government. 14 provinces and cities cooperated with FPT to accelerate digital transformation in these pillars, bringing the total number of FPT's cooperation agreements with localities nationwide to 25. It also became a reliable partner of leading global corporations, such as NCS, Julie Sandlau, SCSK… and Vietnamese companies, such as Petrolimex, Thien Long, Tan Long, Flamingo, An Gia, and Vinaseed. Base.vn, the business management platform, got 8,000 SME customers which were considered the "lifeline" of our economy.
Carrying the distinctive "gene" of information technologists, we pushed ourselves to new boundaries. In September 2022, FPT had launched its first line of microchips to be applied in the IoT products for medical care. In addition, FPT's Education surpassed the milestone of having 108,100 full-time equivalent students registered throughout the system, becoming a Mega-scale educational organization.
2023 – Deep insights, smart services, and ongoing companionship seeking breakthroughs
FPT will do its best to effectively accompany the Government, localities, organizations, businesses, and people on this development journey.
How did FPT control the situation and grow to more than 23%? It was largely due to the fact that we consistently focused on providing thoughtful insights and excellent service capabilities to meet the needs of all customers of all sizes in every domain. Moreover, we constantly accompanied countries, governments, organizations, businesses, and individuals at every stage of development.

First of all, it was about Technology. The Corporation's key growth driver – the Made-by-FPT ecosystem – grew to a scale of 200 products, solutions, and services, delivering exceptionally optimized services. By investing heavily to encourage creativity and innovative startups within the Corporation, FPT aimed to strengthen its ecosystem in terms of both quantity and quality.

Secondly, there was the Human factor. Covering 29 countries worldwide, with an average age of 28. Human capital maintained the core strength of FPT to master new technologies and seize business opportunities.

And finally, Corporate Governance practices should be addressed. 2022 was the year FPT promoted its governance strategy toward accelerating internal digital transformation through a real-time data-driven operation. Particularly, the implementation of the FPT Data Lake helped corporate executives increase management capacity to make more accurate decisions more swiftly thereby helping to rapidly gain ground on market development scenarios and customer demand.

2022 has seen FPT become a more resilient organization committed to accompanying all organizations and businesses in digital acceleration and towards enhancing satisfaction for all.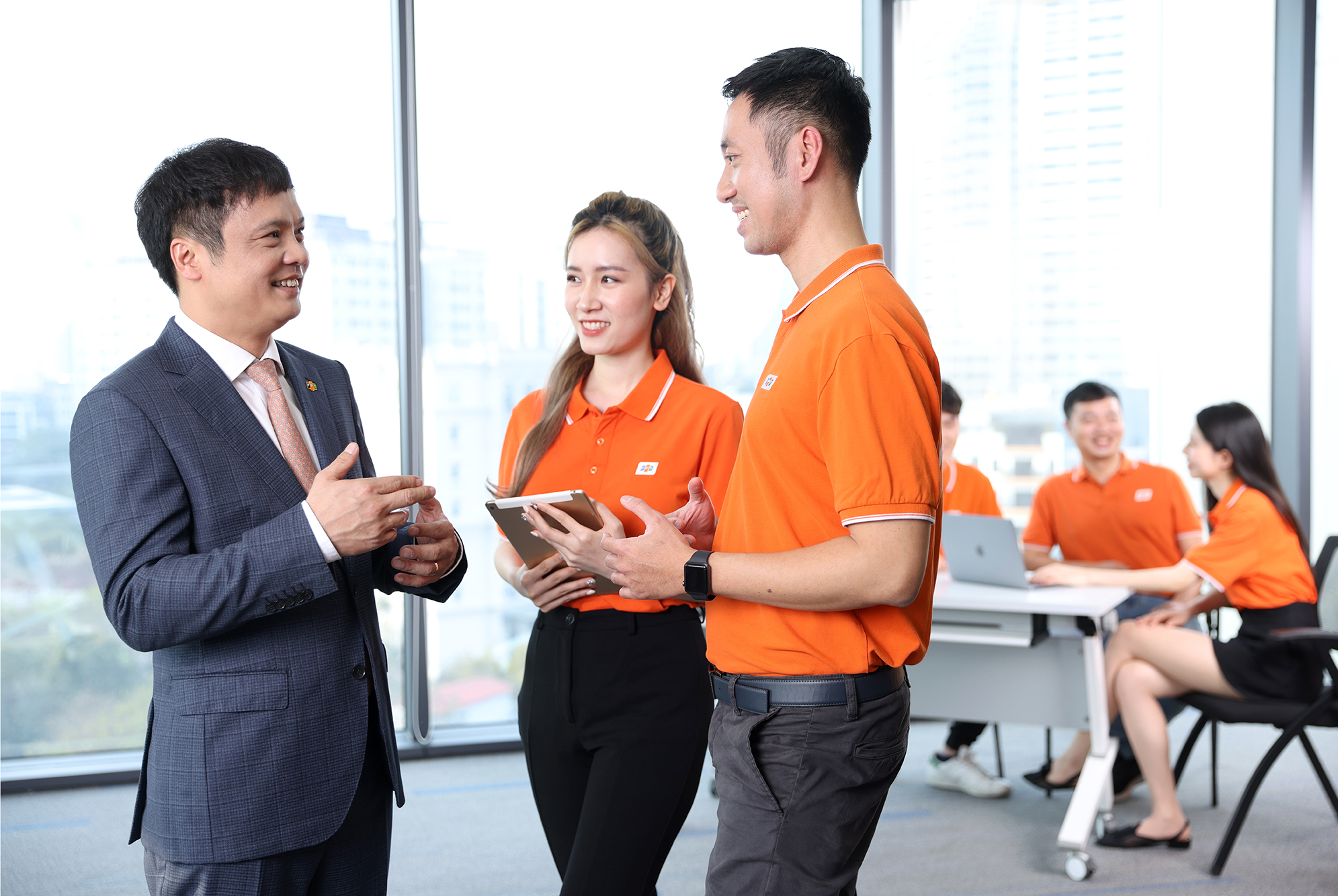 The information technology sector's 2023 outlook will be far superior to that of 2022, according to the latest forecast by Gartner. Worldwide IT spending is projected to total 4.6 trillion USD in 2023, an increase of 5.1% from 2022.

Investment in DX is expected to remain as robust as global DX spending may reach as high as 3.4 trillion USD in 2026. In Vietnam, so many new doors are opening for technology companies.

Whilst tall challenges remain, there are very exciting opportunities for progress. We have set a target of 18.8% revenue growth and 18.2% profit growth in 2023.

The Technology sector is expected to continue to drive spectacular performances in both international and domestic markets. We are aiming for 1 billion USD in revenue from foreign IT services and 1 million corporate customers in the domestic market.

The Telecommunications sector has built a stable foundation to deliver satisfying customer experiences. In 2023, we will keep pushing customer experiences to new heights in order to realize the ambition of earning 1 billion USD from 2023 to 2025.

FPT Education will scale up in Hai Phong, Bac Ninh, Bac Giang, Ha Nam,... to provide an educated and skilled workforce, contributing to making an impact in local and socio-economic development as well as secure future sustainability.

On behalf of the Board of Management of FPT, we hope to serve as your lifelong partner in the journey to spread joy to all countries, organizations, and individuals. Together, we can create a happier future.
Best regards,
FPT CEO Nguyen Van Khoa