Business Development Strategy for 2023 - 2025
In 2023 - the 35th year of development, FPT Corporation has set a higher goal: Creating Happiness with the DC5 - 135 Strategy for the period of 2023 - 2025.
DC5-135 Strategy
DC5 stands for Digital Conglomerate 5.0, a digital union with the ultimate goal of creating satisfaction for individuals, success for organizations, and moreover, prosperity for the nation. This strategy aims at the following key objectives:

FPT continues to promote the development of digital transformation solutions with those offered by its partners to improve the work performance of organizations and individuals.

The Digital Union will be established to bring the best and most true-to-life experiences, products, and services to individuals, organizations, and companies, based on five core components includes: AI, Data, Identification, Communication and Touchpoints.





DC5 will bring together the best technologies and solutions, along with the knowledge and insights FPT accumulates through large-scale projects in various domains that it has deployed in Vietnam and internationally.

By 2035, FPT expects to reach one million digital transformation workers participating in the Digital Union, strongly accelerating domestic and global digital transformation.
Key programs and projects for 2023 - 2025
Major programs and projects throughout the Corporation in the next three years will be deployed evenly in all three aspects: Business - Management - Technology.
Business
In parallel with the implementation of DC5, FPT fosters continuous innovation and business expansion in all domains, promoting sustainable growth.
In overseas markets
More offices will be opened in Latin America, North America, the Middle East, and Eastern Europe with the goal of increasing service capacity and availability to serve global customers and unlocking the potential of new customer markets.

Following the success in offering digital transformation services, FPT will heavily invest in digital transformation solutions for Healthcare, Finance – Insurance, and Automobile manufacturing. Besides this, Cloud and intelligent manufacturing solutions will be enhanced to serve our global customers.
In the domestic market
For corporate and institutional customers, FPT enhances digital and data solution products to support sales management and customer care, such as eKYC, Chatbot/VoiceBot, CDP, and Loyalty. In addition, management excellence solutions for internal operations (iHRP, eSign/eContract, and akaBot) that combine core systems (ERP, Manufacturing...), DX solutions, FPT Cloud infrastructure, other packages of data processing solutions, and intelligent AI are also in focus.

FPT provides end-to-end, highly effective, and reasonable integrated solution packages to fit business budgets during the global economic downturn.

In addition, the Corporation seeks to continuously innovate and create new services to provide unique experiences for each customer at every point of contact. During this period of 2023 - 2025, FPT is committed to providing meaningful innovations in services for the masses. The customers will benefit from the loyalty points, AI Recommendation systems, and third-party integrations throughout the product ecosystem of FPT.

In addition, with its competitive advantages in technology, procedure, and labor, FPT is committed to accompanying the government and state agencies in implementing digital transformation projects, gradually forming new key frameworks and technologies for its digital government model. Based on practical needs, the digital solutions and services built by FPT are guaranteed to solve many problems experienced by the government and ministries and promote the goal of national digital transformation, with the highest goal of saving time and costs, benefiting the state, individual people, and businesses.
Management
To enhance management capacity, FPT focuses on implementing key programs in three thematic groups: In-house Training, Management, and Internal Digital Transformation, following the 2021 - 2023 strategies.
In terms of in-house training
the Corporation continues to promote training activities that enhance workers knowledge and experience and help them to adapt to a fast-changing environment. Regarding the form of training, FPT combines in-person, online, and hybrid training with "social constructivism" learning methods to provide flexibility and encourage high efficiency to our learners. In 2022, employees of the Corporation completed 3.4 million hours of training , an average of 81 hours per capita.

In 2023, in addition to maintaining a high training completion rate and the average number of hours, FPT plans to organize monthly technology-intensive training sessions, especially seminar series' such as TechTalk and AI. Furthermore, as a leading corporation in technology, FPT always encourages and invests heavily in studying and taking appropriate examinations to improve the technical capacity of employees by increasing the total number of awarded technology certificates to 8.712.

In addition, to meet the increasing needs of human resource development, FPT upgrades training programs designed for middle managers, such as the Mini MBA courses, the Master-Disciple Program, etc., to equip them with the most up-to-date and essential management know-how. Many competitions and awards like FPT Under 35; Top 100, etc. are promoted to nurture talent and foster future senior leadership positions.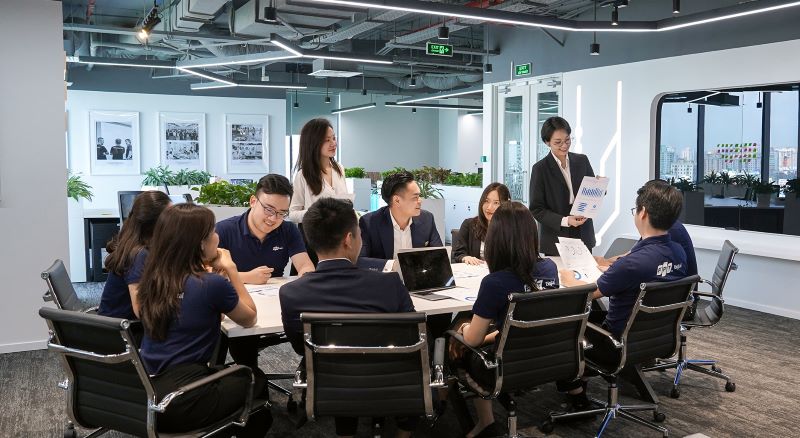 The programs under the "Management"
The programs under the "Management" theme include: Improving the capacity and efficiency of functional departments throughout the Corporation; Pay-for-performance compensation; Rotational Program; OKRs and Performance Management, Talent Management; and Total Employee Well-being.

Improving the capacity and efficiency of functional departments: The Corporation continues to improve communication channels, operational connection, and synchronous coordination. As a result, the quality and performance of departments in 11 business functions, such as Finance, Human Resources, and Quality Control..., will be enhanced to support business lines, creating a solid foundation to maintain fast and sustainable growth.

OKRs and Performance Management: The Corporation maintains challenging objectives with specific actions from the corporate to the individual level. The results must be evaluated on a monthly and quarterly basis to monitor and accelerate the realization of the set goals.

Pay-for-performance compensation: FPT creates transparency and equity while implementing a pay-for-performance compensation model. This program pays employees based on how they perform their job, thereby increasing motivation and productivity.

Rotational Program: Leaders and managers at all levels across the Corporation will be rotated with new challenges and experiences to nurture their creativity and motivation to dedicate themselves to a common goal. The 2023 rotational program combines the Talent Management program to build a strong succession of leaders yearning for new opportunities.

From 2023, FPT will implement the "Total Employee Well-being" program - the overall redesign of welfare policies aligned with Employee Experience, to create a competitive work environment while inheriting and maintaining corporate values.
The programs under DX
As a pioneer in digital transformation in Vietnam, FPT constantly invests in internal digital transformation programs. We facilitate, promote and implement digital initiatives to accelerate digital transformation internally under the FPT Digital Kaizen methodology. The technology integration in management activities helps the leadership team to quickly and accurately capture information and support timely decision-making, thereby promoting management and operational excellence.

42 major digital transformation initiatives were implemented in 2022 in 08 subsidiaries and 02 affiliates, saving costs by 158 billion VND in expenses and increasing revenue by 83 billion VND.

Data Mining, Automation, and Cloud Transformation continue to be the focus of internal digital transformation programs in 2023.
Technology
As the leading technology company in Vietnam, FPT is ahead of new global technology trends, leading the development of the domestic technology market and meeting the urgent needs of businesses, organizations, and individuals globally while creating a growth momentum for the Corporate in the long term.

Pursuing the new mission of Creating Happiness, the Corporation will develop technology by following these pledges:
Form new products and services
Forming the Made by FPT technology ecosystem with users' satisfaction as a guideline
Made by FPT's products, services, and solutions explore the latest technologies, including AI, Blockchain, Cloud, Big Data, Hyper Automation, and IoT, working towards gaining deeper insights and more intelligent service delivery, bringing the maximum value we can to citizens every day and covering all-life stages in this digital era.

Following this direction, the Corporation will focus more on core technology development, spending at least 5% of the previous year's pre-tax profit on research and development activities. In 2022, FPT issued additional policies to encourage investments in new products and approved investment policies for the period of 2023 - 2025. As a result, the annual target is to maintain the contribution of new products and services, accounting for 20% of the total revenue.
Promoting Hyper Automation to create exceptional solutions for customers
In the future, the Corporation aims to develop smart factories and offices where all problems arising in procedure and production are forecasted and prevented in a timely and accurate manner, as well as serving as a risk prevention mechanism. FPT entirely created the ecosystem of Intelligent Automation, Intelligent Document Processing (IDP), and Conversational AI, which helps handle repetitive menial tasks.
Changing the way people shop
Technology helps bring stores to everyone by making the most of e-commerce platforms in food production and consumption. Sendo Farm, the new shopping model, provides a seamless, self-contained process with a wide range of products to meet all needs. In the past year, Sendo Farm served 500,000 meals to hundreds of thousands of customers in Hanoi and HCMC.
Increasing Cloudization and AI integration into the Made-by-FPT ecosystem
Cloudization and AI integration will be attached to Made-by-FPT products, services, and solutions in order to improve work performance and help corporate customers operate more efficiently, helping businesses break through old plateaus.
Accelerating the "Technology" DNA
Promoting innovation and in-house startups. In the past five years, with the iKhien - FPT Innovation Award, which aimed to encourage employee creativity, 2,000 - 3,000 initiatives were implemented yearly, helping to increase labor productivity by 30%.