Creating happy workplaces
As of December 31, 2022, FPT's human resource scale in 29 countries and territories increased by 14.1% over the same period, reaching 42,408.

The technology sector continued to play a significant role with 28,533 employees, accounting for 67.3% of the total workforce, up 18.6% over 2021. It was also the core force that contributed to expanding the Made by FPT ecosystem and creating a new growth engine for the Corporation in the long term.
FPT's workforce by operating sectors
(Unit: employee)
In the coming time, HR management activities will be raised to a new level as the Corporation announced the DC5 - 135 strategy with the great mission towards achieving happiness together.
Three fundamental goals shaped up the mission: Accompanying everyone in FPT in the pursuit of joy, utilizing digital transformation to provide valuable benefits to business owners and their personnel, and satisfying customers' needs at the right time based on deep insights into them. Hence, FPT strives to have one million employees by 2035 to realize the DC5 strategy and pursue happiness.

Understanding the significant role of human resources in the Corporation's sustainable development, FPT's human resource management focuses on five principal pillars, which include: (1) Diversity, equity, and inclusion, (2) Opportunities for training and advancement, (3) Competitive remuneration and benefits policies, (4) Physical and mental health care, and (5) Listening, empathy, and trust. In particular, FPT always wishes to convey the positive message of happiness and encourage initiatives to create a joyful work environment for all employees.
Our core values of "respect – innovation – teamwork – equality – exemplarity – lucidity" were indispensable to FPT's distinctive characteristics. They are the organizational DNA and the source of strength to motivate both the leaders and employees of the Corporation. FPT accepted everyone as their authentic selves with their strengths and weaknesses. Concurrently, it facilitated employees to improve self-motivation and self-leadership, thereby maintaining a quality workforce.

With 47% of the workforce being Gen Z, the young generations will increasingly become the central workforce with differences and potential in the coming time. FPT is committed to being an attractive workplace for them to learn and dedicate themselves to.
Diversity in culture, nationality, ethnicity, age, and education
1,681
Foreigners of 52 nationalities
80.0 %
Undergraduate and graduate degrees
3,618
Working directly in abroad
Improving gender equality
Human resource structure by gender
Number of managerial level by sex
Promoting in-house training
130
Billion VND of in-house training costs
676,127
training sessions
8,712
Technology certificates
Technology requires constant change and creativity. Hence, FPT built generations of employees who constantly learned and strived to meet the requirements.

All employees of level 2 and above must attend the annual training programs of the Corporation or complete at least one course in MOOC (Massive Open Online Course) platforms. In 2022, training programs were widely deployed throughout the Corporation, with over 3.4 million learning hours and up to a 99.6% completion rate. It was also the first year that FPT deployed in-house training for the entire subsidiaries on Udemy - the world's largest online learning platform with more than 65,000 courses.

In addition, the "Master-Disciple" programs continued to be actively maintained, achieving a remarkably high 'active' rate and many participants. Specifically, the Master-Disciple program had nearly 2,000 hours of activity with a 88% active rate, 200 masters, and almost 1,400 disciples. Furthermore, as a big tech in Vietnam, FPT always encouraged and invested heavily in training and education to improve technological capabilities by increasing the total number of technology certificates to 8,712. To achieve these impressive results, FPT spent more than 130 billion VND on internal training activities during the year, up 30% when compared to 2021.

In addition, the Corporation paid tremendous attention to nurturing all levels of management by boosting MiniMBA courses in Vietnam and abroad. It also provided capacity-building courses exclusively to middle managers, with more than 16,000 hours of learning in 2022. MiniMBA is the training program for potential high-quality staff among FPT's subsidiaries. MiniMBA shortens and distills the quintessential content of the MBA program, organized by FPT Corporate University in collaboration with the FPT School of Business & Technology (FSB). The program aims to help learners consolidate core management knowledge as well as systematize essential and professional management skills for modern business management and corporate governance. It also helps improve their capacity, leadership, and business network development through the multi-dimensional exchange of experiences.

The core staff training program helps young talent hone their knowledge and skills and to improve their leadership and management capacity to become the next generation of FPT leaders. 
Boundless learning opportunities for the community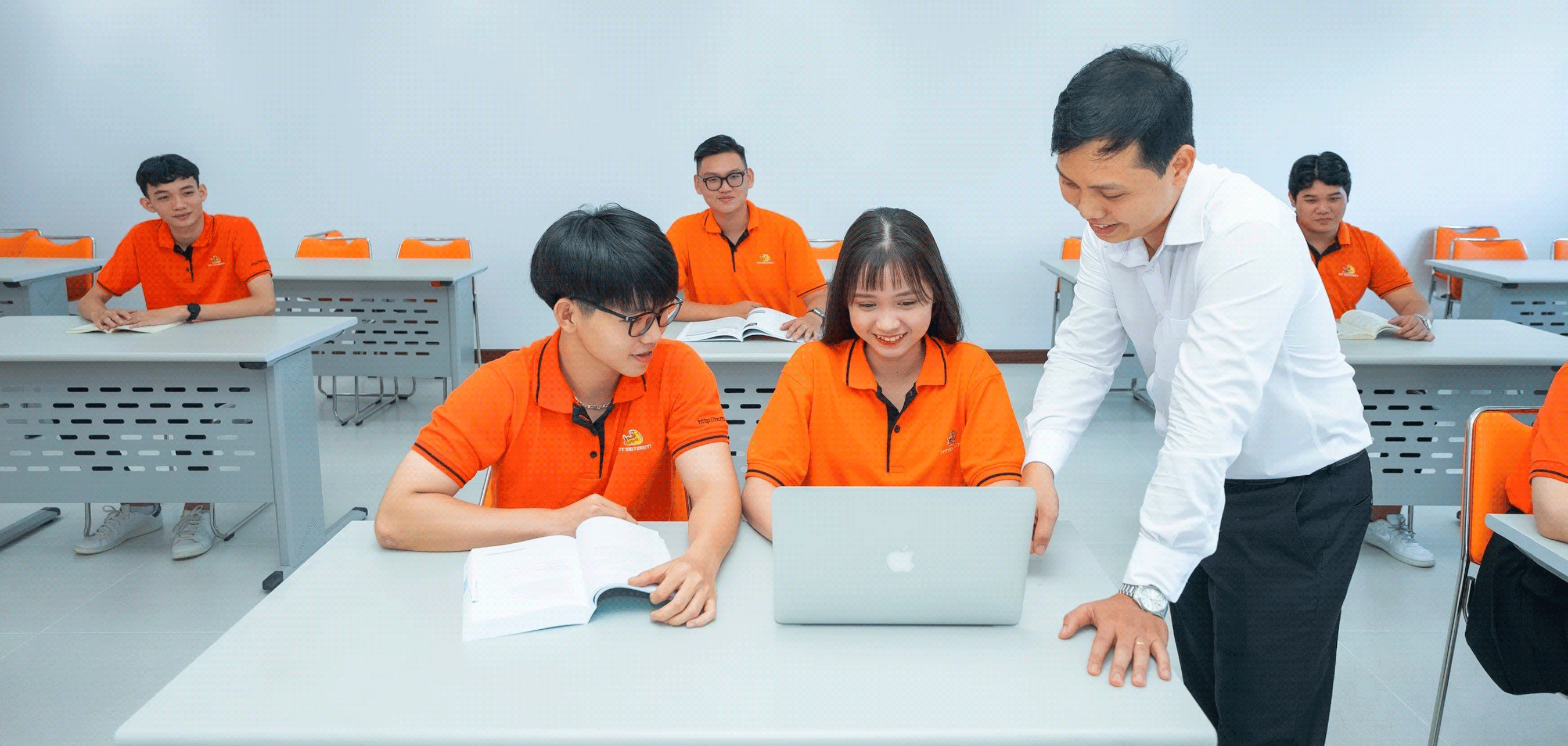 Besides, FPT has always focused on gaining young, logical, and creative talent in its recruitment process. In fact, they have been creating a positive motivation for the working environment, meeting the increasing needs of functional departments, and potentially joining the management team. In addition, FPT organizes fresher and intern training programs every year to provide advanced technical knowledge and skills, practical work experience, and new and exciting chances for young talents to unleash their ability. With an increasingly large staff size and double-digit growth rate, FPT will continue to promote the incubation and nurturing of young talented workers and future successors in the coming time.

Typically, FPT Software Academy was the training program for professional developers of FPT Software (FPT's subsidiary) for all students in the IT sector across the country. FPT Software Academy offers career opportunities and a professional training environment according to international standards, with the mission of providing and training high-quality technology human resources to work on major global projects. It is the starting place for the success of leading IT engineers in the future, responding to the strong development of the Corporation. The Academy has more than 5,000 young IT trainees annually. Expanding to 37 offices in 16 countries, it also partners with nearly 70 universities, institutes, and colleges nationwide in developing internship training and career orientation programs for students.
Adhering to the provisions of the labor law
The context of economic fluctuations in 2022 even resulted in some staff cuts in leading global tech giants. However, FPT maintained stable jobs and employee income and complied with the Labor Code thanks to its ability to ensure business continuity and excellence in productivity.

FPT will provide comprehensive care for employees and their families by practicing the employee-centric orientation. FPT always focused on developing a competitive, complete remuneration policy that covers all employees and their families equally and transparently, ensuring they receive earnings commensurate with their performance and contribution to the organization. Performance evaluations were conducted regularly and fairly based on the "Do more - Get more" criterion.

Along with the remuneration policies in accordance with the Laws (on social insurance, health insurance, and unemployment insurance), FPT also built different welfare regimes for employees and their relatives.

Besides, FPT organized annual programs to honor individuals and teams with excellent achievements throughout the year, extending from the corporate level to subsidiaries, centers, and departments. Some typical honor ceremonies, including FPT Under 35 and Top 100 FPT, were held widely and creatively in Vietnam or abroad, encouraging employees to take pride in their work and enhancing their emotional attachment to and involvement with The Corporation. The recognition was also the gratitude to employees' family members for the supportive role they play.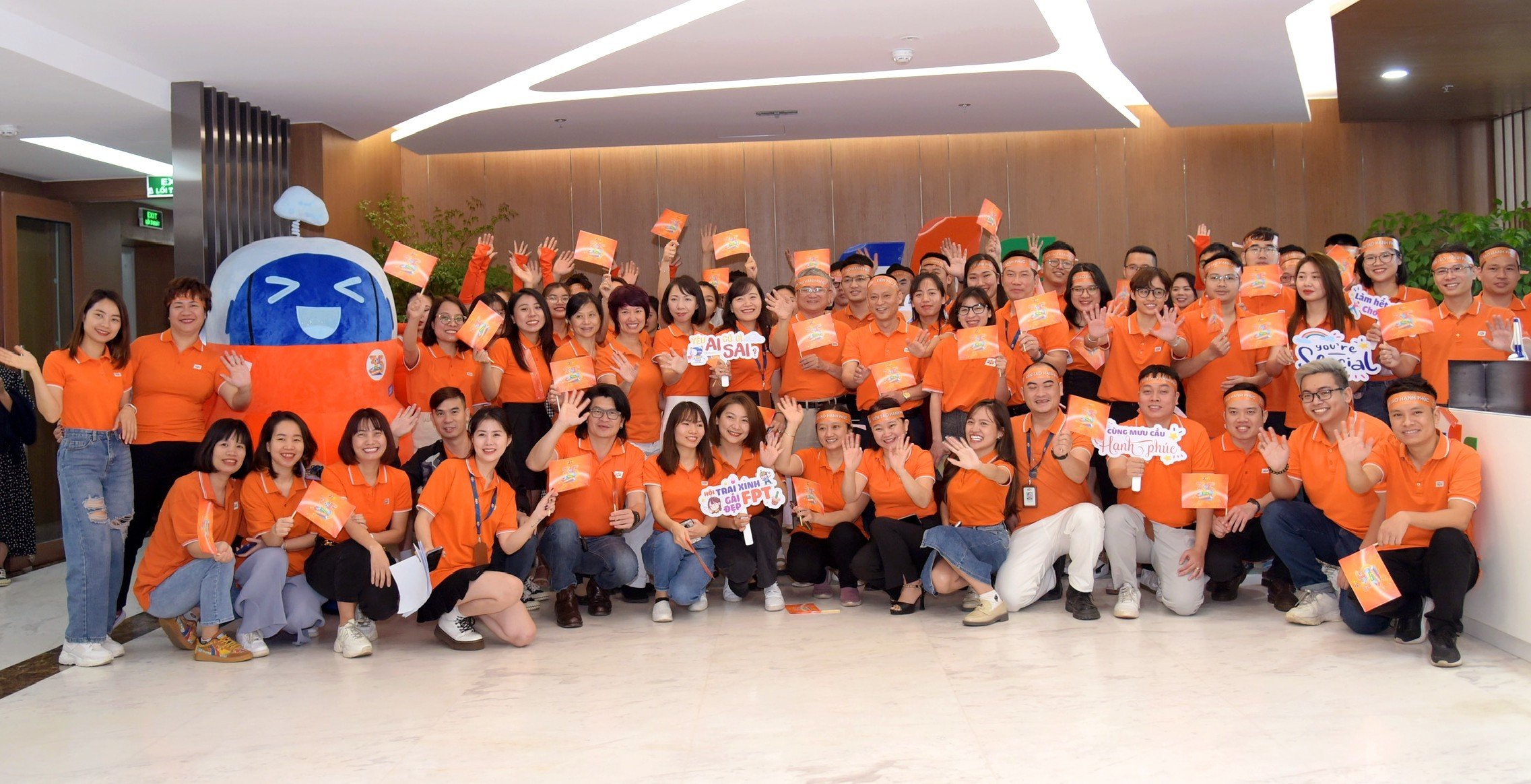 Accelerating creativity and innovation
FPT Innovation Award - iKhien and in-house startups
FPT Innovation Award - iKhien is an annual award to honor practical innovations that go into long-term operation and encourage the spirit of creativity and innovation among staff. The program has been continuously implemented for several years, helping us yield Onethe creative potential of our people. Moreover, those initiatives under the FPT innovation award were not only to be internally used but also for commercialization and making a social impact. 

Remarkable numbers about startups and innovation at FPT included 3,707 ideas and more than 350 billion VND of investment in creative ideas. In addition, some of the products had impressive user communities. One being mentioned was the FPT AI platform with more than 600 million end users, FPT akaBot with over 3,000 customers in more than 20 countries, Base.vn with up to 8,000 corporate clients. 
OKRs and ambitious objectives:
OKR methodology, tied to the terms of "Leng keng" (which means "Think Big"), "Exceptional results", "Doing things differently", has gradually been harmonized with the enthusiasm and ambition of all staff for years. Setting individual OKRs quarterly allows the detailed measurement of the results by specific indicators and products while making a considerable contribution and closely related to performance indicators and action plans of the company or the department during the period. This has been the driving force behind FPT's remarkable achievements and new records. To punctually recognize the contribution and encourage the completion of OKRs, FPT quarterly honors the Top 13 employees with the best OKRs. 
Offering opportunities for advancement
FPT leaders were regularly rotated into various business segments to develop diverse experiences and improve leadership and management capacity, enhancing stable development for the Corporation in the upcoming years. Internal rotation has become the lifeblood of FPT to increase work efficiency and promote innovation. The program facilitated the development and improvement of professionals, leadership, and management skills of staff at all levels. Furthermore, it helped discover and foster the next generation of FPT leadership.
As the longest-established exam of the Corporation, "Trạng FPT" not only stimulates the spirit of learning but also helps maintains the corporate culture. Lighting up the core values of "Respect - Innovation – Teamwork - Equality - Exemplarity - Lucidity", it is a playground for FPT's employees to show off their talents and seek promotion opportunities. The exam aims to find young talents with leadership qualities and management capacity to honor and promote. The winners will receive coaching and training activities in order to take on the role of the next generation of leaders for the development of the Corporation.

Successful applicants were appointed to key positions of the Corporation and its subsidiaries, such as Senior Vice President of FPT Corporation, FPT Telecom CEO, CHRO of FPT Corporation, and Headmaster of FPT Polytechnic College...
FPT 13 Under 35 is a competition for FPT employees under 35 who are active in different fields and making a prominent mark with their excellent work. Being in the Top 13 Under 35, the winners may enjoy multiple privileges, such as becoming FPT Youth Ambassadors for one year, joining the "Master - Disciple "program, and being mentored by FPT's top management team. They are also on the appointment list of leadership positions. Also, they will become guest/keynote speakers of the FPT Under 35 Summit. 
Promoting physical and mental wellbeing to employees
FPT is one of the few Vietnamese enterprises with unique corporate cultural values, which create a distinctive advantage in attracting talent and enhancing cohesion among staff members or between them and the Corporation.

The Corporation regularly organizes activities to promote employee engagement and improve their spiritual health, preserving its unique corporate culture.

FPT also paid attention to activities to improve the physical health of employees. It was spending thousands of billions of VND on comfortable and classy campuses and offices with numerous utilities, serving the needs of work - entertainment - study - accommodation, including outdoor sports areas, gym & yoga centers, swimming pools, cinema rooms, relaxation areas, residential areas, libraries, restaurants & green spaces.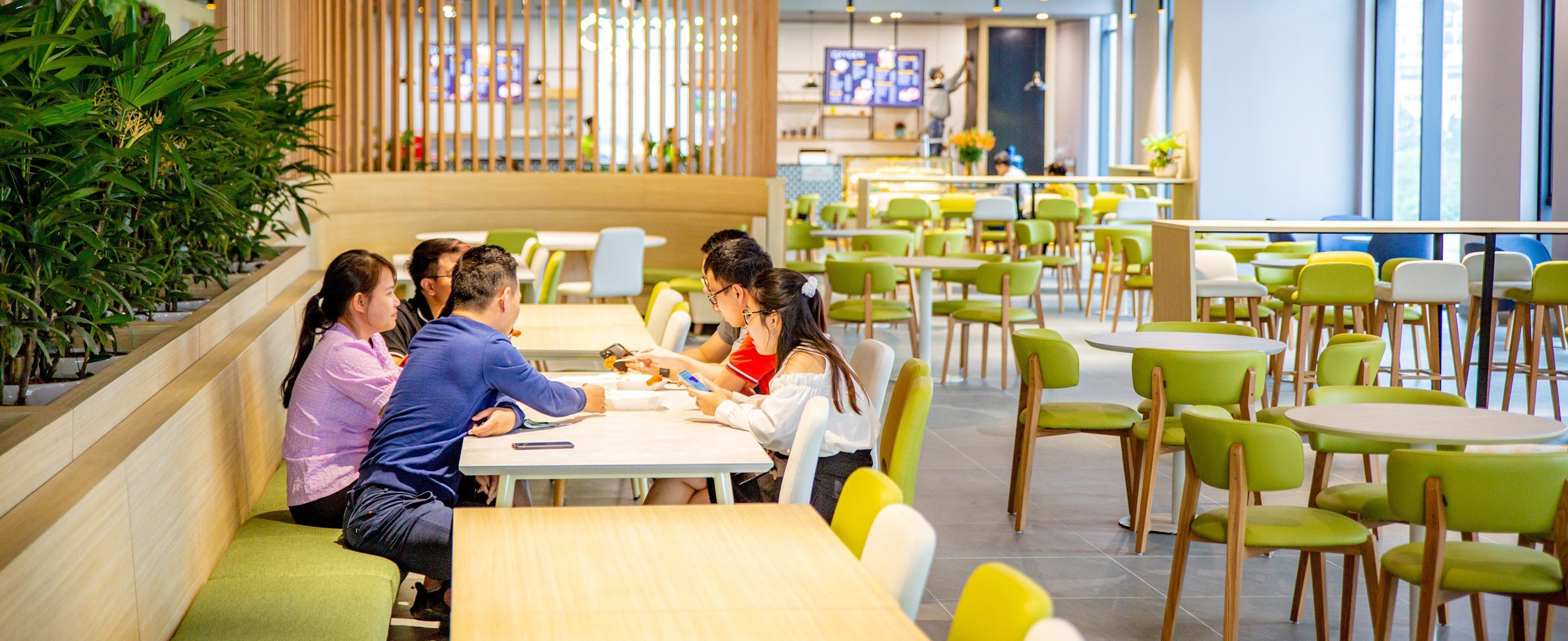 Using technology to promote workplace happiness
As one of the leading technology corporations in Vietnam, FPT considers integrating technology into the workplace a vital strategy to enhance employee experience and create a happy work environment.

FPT is also one of the pioneering enterprises in Vietnam to deploy an employee engagement platform. Called myFPT, the "Made-by-FPT" app allows employees to access personal information easily, mark the attendance check-in and check-out, receive rewards and "golds" from their managers/leaders/colleagues instantly, and even play puzzles and games. In particular, the timely interaction between managers/leaders and employees is highly appreciated with the 'Recognition' feature. Managers/Leaders can promptly encourage and reward employees with "golds" bonuses for their worthy achievements on the myFPT app.

In addition, FPT also attached great importance to business automation solutions to optimize labor productivity. As a result, applications to help reduce paperwork and increase productivity were enhanced, contributing to the completion of the Made-by-FPT ecosystem. They included Uservice - the digital signing system, FPT Epayment - the online payment platform, Foxpro - The solution for tracking employee time and attendance, etc.
Constantly yearning for employees' feedback to make timely adjustments and bring about the best working experience, the Corporation annually conducted employee satisfaction surveys so that all FPT employees could voice up their thoughts and aspirations. In addition, they provided essential information for FPT to improve its remuneration policies.

The Corporation and its subsidiaries regularly organized one-on-one meetings between managers and employees to listen, seek to understand, and further build trust and long-term commitments.

For instance, in the CxO Talk organized by FPT Software, the most time-consuming part of the agenda was the Q&A between employees and company leaders regarding production, business activities, company resources, digital transformation, internal regimes, and operations. More than 200 questions from employees were sent to the program after three days. The fields of Policies & Benefits, Business, Delivery, Technology & Digital Transformation, and Culture & Life received the most incredible attention from FPT Software employees. It was also an opportunity for managers to listen to their employees, share strategies and updated operations, and convey key messages.

To promote OKR and honor outstanding individuals, one of the motivated activities was the Dinner Party with FPT Chairman. Quarterly, FPT Chairman Truong Gia Binh will invite 13 employees with the best OKRs among subsidiaries to a dinner at his house. If not living and working in Hanoi, the individual will be covered for all travel expenses by the corporate budget.

With the desire to create an open space for Generation Z - which accounts for 47% of the total workforce - and to nurture young talent and promote FPT's employee qualities, the Corporation initiated the series of events specialized for Gen Z called "Zenerations – The Future of the Workplace". In 2022, within the framework of the series, there were three seminars & game shows deep diving into multi-dimensional perspectives on Gen Z. These valuable insights helped build the most suitable work environment for young people to unleash their creativity and potential. The series attracted more than 100 leaders, managers, and thousands of employees to attend virtually and in person.