Management towards sustainable development
Constantly improving the efficiency of corporate governance and production management is the most effective way to ensure customer satisfaction, enhance competitiveness and provide sustainable benefits to stakeholders. Moreover, this is indispensable for maintaining compliance and achieving sustainable development goals according to international standards.

In 2022, FPT continuously implemented the OKR management method throughout the Corporation. The OKR methodology helped maintain the consistency between personal targets and the objectives of their department, subsidiary, and the entire Corporation. It contributed to improving operational efficiency and labor productivity as well. Objectives and key results of the Corporation, its subsidiaries, functional departments, and all individuals were measured, updated, and monitored by the OKR online management platform to accurately track goal completion rates while adhering to the annual targets.

The Corporation respects the personal privacy of all individuals, including employees, customers, partners, suppliers, and their data confidentiality. The data protection policy is applied thoroughly across the Corporation and its subsidiaries in accordance with governance standards.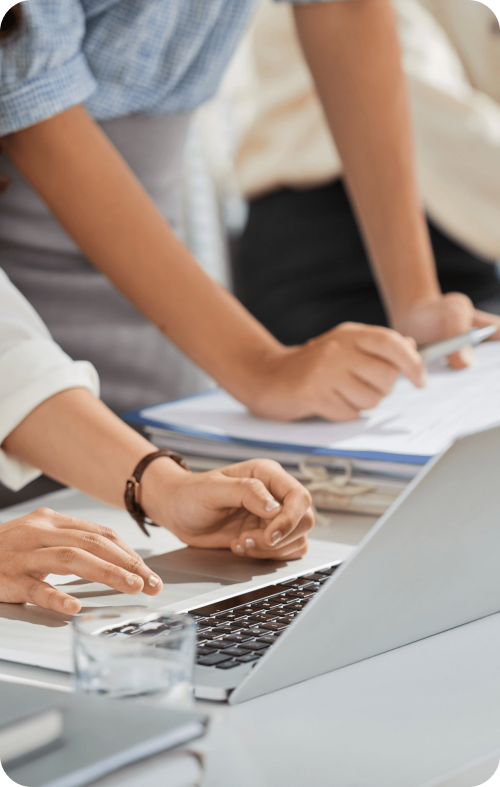 Risk management on strategy
To misidentify the development orientation, which means unreasonable investment allocation as well as failure to explore new business segments and launch high-value products/services to meet market demands.

Foreign or emerging competitors arrive and seize market shares.
Participating in major economic and technological events globally to get updates on the latest tech trends and explore new business opportunities.

Organizing annual strategic governance conferences to keep abreast of the latest trends in business and technology, thereby consistently and promptly adjusting the visions and strategies.

Providing end-to-end services and gradually enhancing its prestige in the IT value chain. This strategy will help continuously improve the competitiveness of the Corporation.

Promoting staff training and development, especially for technologists, in order to enhance technological capabilities and meet competitive needs. FPT's total number of employees stands at 42,408.

Continuously enhancing business models, information systems, and internal processes to optimize operations and expenditures based on modern corporate governance systems.

Promoting in-house digital transformation to assure unified and transparent operations toward a real-time data-driven corporation. This significant factor helps build competitiveness, steadily overcoming challenges as economic recovery suffers after the Covid-19 pandemic. In 2022, the concentration on in-house digital transformation significantly enhanced the Corporation's management, operations, and business activities.
Risk management on operation
Information disclosed needs to be timely, complete, and accurate.

The risks occur in attracting talent; or the need for more HR quantity and quality to keep up with business growth and meet international standards for global expansion.

A bad reputation significantly impacts businesses in terms of brand image and monetary effects.

Data leakage, alteration, or loss, seriously affect business reputation and strategies.
Fully updating regulations related to information disclosure for listed companies; Setting up internal processes of information provision and disclosure to provide timely, accurate reports on operational and financial activities.

Keeping regular contact with the person in charge of information disclosure at SSC and HOSE to monitor the sufficiency and accuracy of information to be disclosed.

Making FPT a learning organization, developing a highly qualified workforce, and being well-organized toward a long-term vision. In 2022, training programs were widely deployed throughout the Corporation, with 676,127 training sessions. The number of technology certificates also increased from 4,768 in 2021 to 8,712 in 2022.

Developing fair, transparent, and competitive remuneration policies based on the "Do more – Get more" criteria. Employees' income would be commensurate with their performance and contribution to the organization. Additionally, FPT also implemented other policies such as housing and vehicle subsidies.

Creating an equal and happy work environment to enhance the employer brand and gain more talent.
Developing a customer feedback system for gathering and implementing consumer opinions to adjust customer services promptly. Periodically surveying stakeholders' satisfaction.

Setting up a process of crisis communications management; the media code of conduct; monitoring daily and hourly information related to the Corporation and its subsidiaries on media and social networks to promptly handle the potential reputational crisis.
Thoroughly applying anti-data loss and system safety measures to ensure the IT security of the Corporation.

Increasing investment in cybersecurity systems and solutions, revising processes, and applying the latest security standards. In addition to outsourced systems, FPT has been developing some cybersecurity products, such as CyRadar and FPT EagleEye.
Risk management on finance
Exchange rate fluctuation is a potential risk in FPT's overseas IT services

Risks in business activities include bad debts and high inventories.
Strictly monitoring factors that affect foreign exchange rates, diversifying resources of foreign-earned income; Applying exchange rate hedging policies, especially for Japanese Yen; Using currency swaps to hedge against possible exchange rate risks with foreign currency loans and deploying flexible sales policies based on exchange rate fluctuations.

Complying with sales-purchasing processes and contractual management procedures… to reduce operational risks in business.

Utilizing AI and data analytics to create the solution for procurement optimization. The solution helped scan and identify products to be purchased, recommend suitable suppliers, then track and spot suspicious transactions in the procedure-to-pay process with vendors.

Creating liability management and inventory management policies.

Developing an automated monitoring and approving software system to improve management efficiency and minimize risks.

Strictly analyzing and monitoring overall business processes right from the stage of quantifying customer needs.
Risk management on regulatory
FPT's growing scale of operations has gone beyond Vietnam's territory. The global expansion requires compliance with local legislation, especially the Law on migrant workers in the countries where FPT operates. Besides, cultural differences in a multinational workforce and among its partners present increasing challenges.
Swiftly following the policies and crucial directions of the Government and state agencies; actively researching and making recommendations to competent authorities in order to promote the role of IT in boosting economic growth.

Researching, keeping abreast of and complying with provisions, and respecting the cultural and business environment of international markets and proving training courses in local cultures and laws.